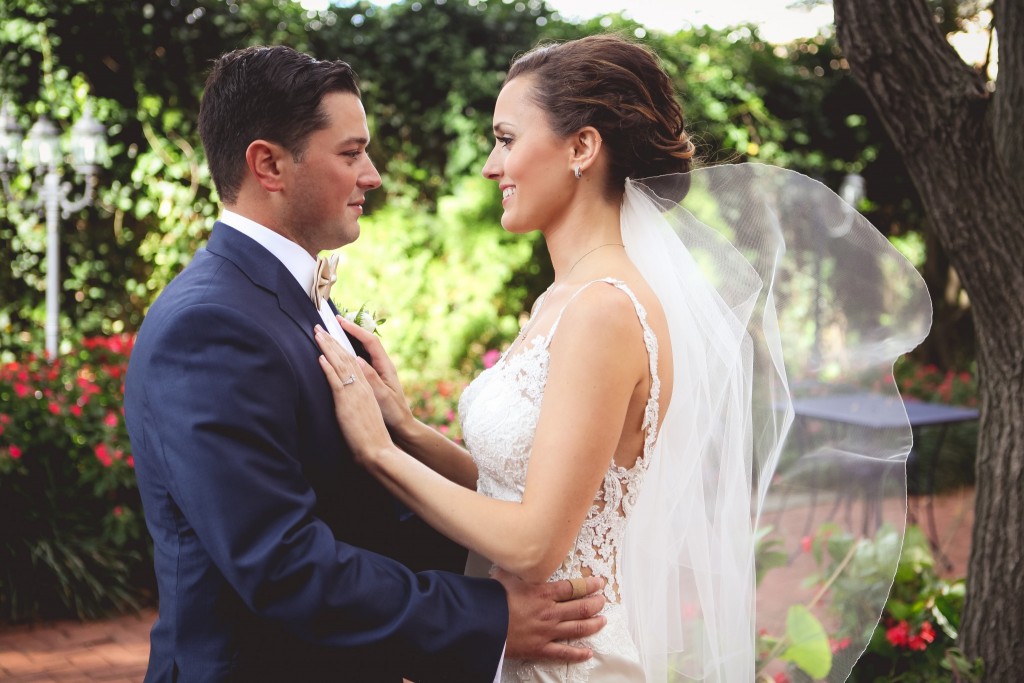 Get ready for another Real Wedding Feature from the 1840s Plaza!
You know the couples that you can interact with and are able to see how much they adore each other? That is Brandon and Alex. It is amazing to see that kind of connection between two people. After talking with the couple and seeing pictures from their wedding, I knew I had to know the story behind this relationship.
Brandon and Alex both grew up in Ocean City, Md.  They spent summers on the beach, hung out at the boardwalk and even graduated from the same high school, but as they were a few years apart, their paths never crossed until the spring of 2010.  Alex got hired at Fagers Island where Brandon had worked for a few years.   Having alike childhoods, their similarities drew them together, but their relationship was fresh and new.  By the middle of the summer, Brandon asked Alex on a date.  They spent the rest of the summer getting to know each other.  Before she went back to school for the year, Brandon asked Alex to be his girlfriend and they have never looked back!
On their four-year anniversary, Brandon took Alex on a trip down memory lane.  They visited multiple places that had special meaning in their relationship.  They ended up in downtown Berlin, where there was a horse-drawn carriage waiting.  The carriage took them to the town park, where they took a walk on the nature trail.  Alex came across a painting in the grass of a stick figure man proposing. Brandon had created this to incorporate Alex's love for painting into his proposal.  When she turned around to Brandon, he was already on one knee—she said, "Yes!"  They returned to town in the horse-drawn carriage where both of their families were waiting with champagne and a celebration!
The couple was met with some challenges when planning their wedding, including creating a seating chart for a guest list of 210 people, but they were able to see it all coming together at their final venue walk-through.
Brandon and Alex were married on Saturday, October 17, 2015.  Before their ceremony, they had a "first look."  They took a few minutes to spend some time together alone before everything started to calm their nerves and to remind them what their big day was really about.   Brandon and Alex loved the charm of Baltimore, and their guests were able to make a weekend out of coming to their wedding.
Congratulations to Brandon and Alex!
Vendors
Photography: Sarah Murray Photography
Caterer: Rouge Fine Catering