American writer, poet, and literary critic Edgar Allen Poe was best known for his poetry and short stories. "Although Richmond is the place Poe most considered home, Baltimore defines the beginning and the end of his life. Born while his parents were traveling in Boston, his family roots were firmly set in the soil of Baltimore. Here his remains rest for eternity.
When asked about his origins, Poe was fond of saying that he was a Virginian gentleman. However, it was in Baltimore that Poe sought refuge when he had feuded with his foster father, John Allan, and was compelled to leave the house. It was in Baltimore that Poe found his future wife, Virginia Eliza Clemm, and in Baltimore that he placed his feet on the first steps of what would be his career for the next 17 years. Perhaps most revealing, when asked for the place of his birth, Poe turned his back on Boston and claimed Baltimore instead." – Poe Baltimore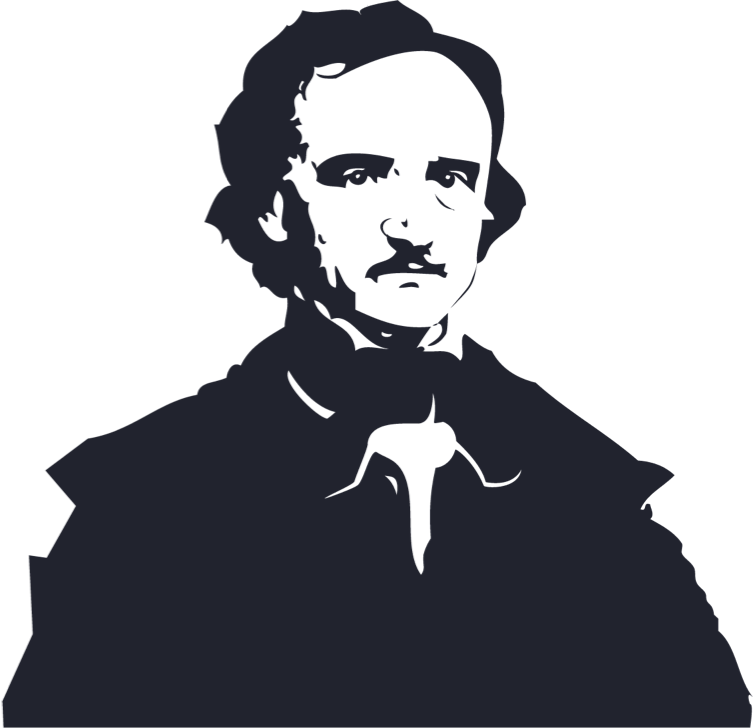 Join Edgar Allan Poe House and Museum as they host a series of Poe inspired events this October at 1840s Plaza!
10/2/2021: 2021 International Edgar Allan Poe Festival & Awards
Saturday Festival Hours: 11AM to 5PM; Sunday Festival Hours 11AM to 4PM.
Explore the enduring mystery surrounding Poe's tragic death on a special Death Weekend Live Virtual Tour of Poe's Baltimore. The 2-hour tour ticket includes stops at four important Poe Places around Baltimore, including the sites where Poe was found and passed away, Poe's graves at Westminster Hall & Burial Ground, and scenes from a special re-enactment of Edgar Allan Poe's first funeral. This ticket also includes access to the NEW "Poe in Film & Fashion" Exhibit at 1840s Plaza and the historic Carroll Mansion! NOTE: Death and funeral imagery (including body in an open casket), may not be suitable for young children. Viewer discretion advised.
Tickets can be purchased here.
*Admission to Poe Fest International is FREE. Tours inside the Edgar Allan Poe House and additional exhibits at 1840s Plaza are not included as part of the general festival program and require paid tickets.*
10/2/2021: The Black Cat Ball: Hollywood Gothic
Saturday, October 2, 2021, 7:30PM
The Official Party for The International Edgar Allan Poe Festival & Awards, Saturday, October 2nd held at 1840s Plaza on the Cabaret level. Doors open 7:30 PM (VIP 7:00 PM.) 21+ and over only, 100% ID check. PROOF OF VACCINE IS REQUIRED.
Join us for a Gothic Hollywood-themed masquerade of the senses as we dance into the night, explore a garden of culinary delicacies, then raise a glass to the inimitable Edgar Allan Poe! Guests will enjoy passed hors d'oeuvres and specialty cocktails while they peruse the "Edgar Allan Poe Film & Fashion Exhibit" featuring costumes from the latest and upcoming adaptations of Poe's works in film & television. Dress to impress and walk our Gothic Red Carpet!
Tickets are all-inclusive for food, beer/ wine/ signature cocktails, and entertainment. Catered by Eleven Courses.
Tickets can be purchased here.
10/2/2021-10/8/2021: Edgar Allan Poe Funeral, Film, & Fashion Exhibit
Visit an interactive art installation at the historic Carroll Mansion at1840s Plaza, where Poe's body and casket will lie in state in a re-enactment of the dark and somber day Poe was laid to rest. Tour the various conspiracies that plague Poe's legacy and learn how the very clothes he wore offer clues to his mysterious death. Pay your respects at a special candle-light vigil for the master of horror and mystery! Held at 1840s Plaza on the City Lites level.
Tickets can be purchased here. *Tickets are good for one day admission only.*