Spring has arrived and that means that wedding season is upon us!  Within the next few weeks, the excitement will pick up here at the 1840s Carrollton Inn and Plaza with all of our weddings planned.
A few weeks ago, the color experts at Pantone released their top ten color picks for the spring of 2016.  The picks include classic, calming staples along with some vibrant brights to liven up the palette.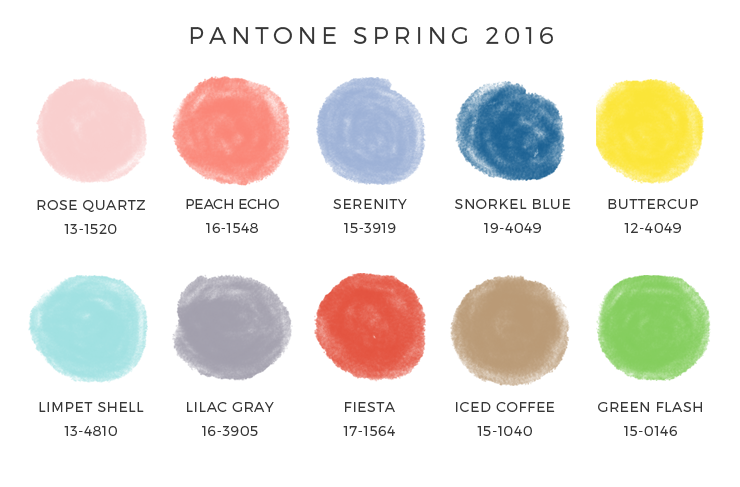 Rose Quartz
This soft and quiet pink is a classic for a spring wedding.  It is the perfect tone to accent a bride in pure white, as it will add a beautiful tone but will not take away from the striking white.
For a classic, vintage look, pair the Rose Quartz with an antique gold and white.
Striving for something more modern?   Pair it with a medium grey, or another color of the year, Serenity, to be at the front of the trending colors.
Peach Echo
The perfect blended tone, Peach Echo brings a fresh perspective to the orange family.  Perfect for any spring wedding setting, this color is sure to put your guests in a cheerful state-of-mind.
Accent the orange in the color by pairing it with a stronger orange.  This is the perfect way to incorporate the feel of warmer weather at your wedding.
Don't be afraid to mix Peach Echo with other shades of pinks and corals to create the perfect tonal wedding.
Serenity
The most versatile of the spring colors picked by Pantone, this blue is calming and serene.  Perfect for those looking to evoke peace at their weddings, it has the ability to be played down for a simplistic wedding with baby's breath or dressed up with white or light pink roses.
As mentioned above, serenity can be paired with Rose Quartz, a color of spring, or with another dusty rose pink.
Perhaps the most effective use of serenity is to let it shine on its own, paired with a white or a cream.
Snorkel Blue
Nautical colors and themes are as popular as always, but this blue brings a new advantage to the classic nautical blues.  It's energy and vibrancy allows it to be used it venues and themes other than those based around the sea.
Let the color stand on its own by pairing it with white and silver accents to bring out its jewel tone qualities.
Pair it with lighter blues or light pink to showcase the calming and elegant side of Snorkel Blue.
Buttercup
One of the more vivacious colors of spring this year is Buttercup, a lively yellow sure to brighten your big day.  Reminiscent of happy days picking wildflowers, this color is the perfect pop for spring.
This color is strong enough to stand on its own, and can create a classic look when paired with white alone or with accents of a dark green.
For a more unique look, pair Buttercup with a vibrant pink or a friendly blue.
Limpet Shell
Limpet Shell evokes a clean, crisp and refreshing feeling while still having enough of a pop to stand alone as a wedding color.  This tone is perfect for the bride looking to have an airy light feel to her wedding.
Paired with coral tones, this color encompasses the best of the modern feel—clean while still keeping up with the times.
Shades work well with Limpet Shell.  If you like ombré looks, try this color for your wedding and let the complexity of the various shades work with the simplicity of the color.
Lilac Gray
This neutral color of the ten still brings a modern edge with the subtle lilac undertone.  Gray is popular, but it is unstoppable when combined with a class, calming purple.
To stay with the neutral theme, pair with another classic such as white or a darker shade of gray.
To add color to your day, pair it with a small pop, such as yellow, or a rich purple or pink.
Fiesta
This color is representative of its name—it's a party, a fiesta!  A lively color that brings excitement and energy, this could be just the jolt you are looking for to add to your day.
Fiesta creates a classic look when paired with a contrasting pure white.
Get even more colorful by pairing this color with other vibrant colors.  It will be a party for the eyes of all guests!
Iced Coffee
Another neutral from this season's colors, Iced Coffee is rich enough to stand alone.  Rustic and classic, this color would be perfect for an outdoor, rustic yet chic wedding.
The beautiful earthy tone of the color is enhanced when paired with a dark sage green.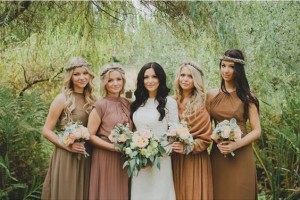 When paired with a pure white, or even with a few accents of a dusty pink, the easily overlooked elegance of Iced Coffee is highlighted.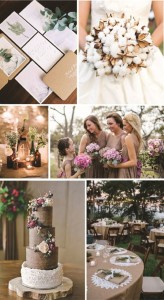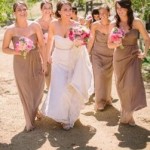 Green Flash
A color with multiple personalities, it is no wonder why this vibrant, yet classic, green was chosen to be a color for this spring.
When paired with a strong navy blue, this color becomes elegant and classic.
When left alone, the natural color of Green Flash stands out and works well with a natural color, burlap or a white to highlight nature in your spring wedding.