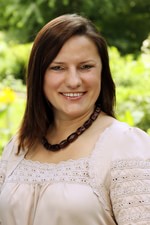 Stasia Cruz
General Manager, 1840s Plaza
[email protected]
(office)
410-385-1840
(cell)
443-324-7590
Stasia has been part of the Gramercy Mansion and 1840s Plaza family since her high school years, learning the ins and outs of the hospitality and events business through firsthand experience with every aspect of daily operations.
Her first job was working on Koinonia Farm and landscaping in the gardens at Gramercy Mansion. She was then promoted to housekeeping and cooking for bed and breakfast guests. Showing limitless potential, motivation and a desire for continued learning, Stasia began working in the office as an innkeeper and event host, eventually becoming manager of 1840s Ballroom when the Pomykalas purchased the Fava Building and opened the fourth floor for events in 2002.
Stasia has managed sales, contracts and special events at 1840s Plaza ever since and has played an integral role in the continued growth and success of multiple venues at the Plaza. She now oversees the entire Plaza, including 1840s Carrollton Inn, the 13-room boutique bed and breakfast across the courtyard from the Fava Building event venues. Her passion for creating memorable experiences, providing top-notch personal service, and motivating a service-oriented team have made Stasia an invaluable asset as the General Manager of 1840s Plaza.
When she's not at the Plaza, Stasia enjoys spending time with her husband Tony and their four boys: Daniel, Noah, Christian, and Sebastian.