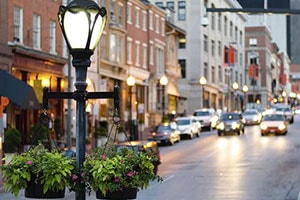 Our Inn has a private lot adjacent to our building and is available on a first-come, first-served basis for Inn guests. The gated lot is located on Albemarle Street on the right side, just before you reach the Inn. Please feel free to park in the lot and proceed to the door under the blue awning for check-in or you may pull up to the 10 minute loading zone at the front door where our staff will be happy to help you unload your luggage.
You may find additional parking a block away at the PMI Old Bay Garage located at 815 E Pratt St, Baltimore, MD 21202 where discounted parking is available for $10 per 24 hours.
Please be sure to pay attention to parking signage as 1840s Carrollton Inn is not to be held liable for any parking tickets issued during the duration of your stay.