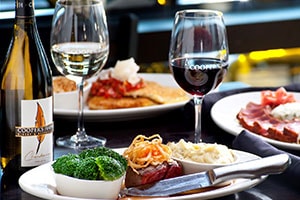 Baltimore is truly a culinary destination, offering a diverse variety of cuisine. Whether strolling just a block south to Little Italy for an Italian feast, or craving a taste of Maryland's famous steamed blue crabs, your choices are limitless.
Some of our favorite neighborhood restaurants partner with us for a three course dinner including wine and dessert, served from a fixed menu. Click here for details.
Ordering in? We suggest choosing from one of the many options on Grubhub or Uber Eats. Want drinks delivered in an hour? Try Drizly!