Whether you are coming into town for vacation, staycation, or business, 1840s Carrollton Inn has you covered! Not only can you choose from our 13 elegant and luxurious guest rooms to spend the night in, we can also recommend the number one spots to visit around town! Focusing on things within walking distance, there are several attractions and restaurants we love!
Feeling adventurous? Visit the National Aquarium to pet a sting ray! While you're there, take a dolphin tour or experience their Shark Catwalk. The National Aquarium's mission is to inspire conservation of the world's aquatic treasures. We are only a 5-10 minute walk away!
**Book a stay with us Monday-Thursday and get up to 2 tickets to the Aquarium for $5 each!**
*This can not be combined with any other promotions or discounts. You must book directly through the 1840s Carrollton Inn and this promotion excludes holidays. For additional details please contact the front desk at 410-386-1840. *photos courtesy of National Aquarium*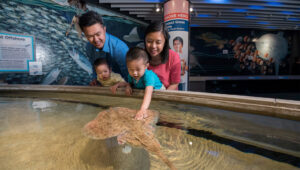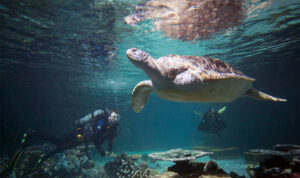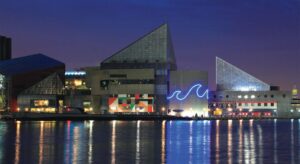 Looking for an afternoon of quirk and charm? We've got you covered. While you can walk to the American Visionary Art Museum, we suggest a quick uber ride around the Inner Harbor instead. AVAM specializes in original thematic exhibitions that seamlessly combine art, science, philosophy, and humor! Don't forget to stop by their fun gift shop to pick up a memento to remember your trip.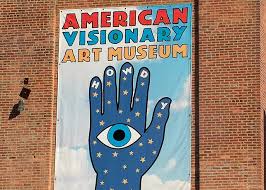 Just finished at AVAM? Hop across the street to the Rusty Scupper for a delicious seafood spectacular! Located above the Inner Harbor Marina in a dramatic, free-standing building, the Rusty Scupper is three levels above the water and can boast a beautiful view from every table! This seafood restaurant and bar serves lunch, dinner, and Sunday live-jazz brunch. The deck with outdoor patio provides sweeping views of Harborplace, the Inner Harbor, and Fells Point! We recommend the jumbo lump crab cakes. Maryland does it best, hon!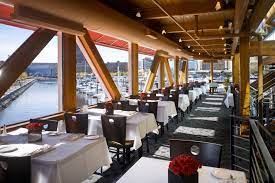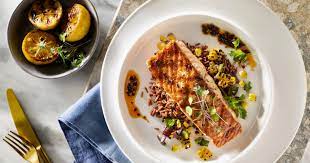 Interested in learning something new? Take a step back into naval history and experience one of the most impressive collections of military vessels in the world! The Historic Ships collection includes four historic boats and a unique 1856 lighthouse. The collection showcases the USS Constellation, USCG Cutter 37, LV116 Chesapeake, USS Torsk, and the Seven Foot Knoll Lighthouse.
FUN FACTS:
The USS Constellation is the last sail-only warship designed and built by the United States Navy in 1854!
Built in the mid 1930s, Cutter 37 was designed for law enforcement missions, search and rescue, and maritime patrol.
LV116 Chesapeake's main duties consisted of patrolling, inspecting, and guiding maritime traffic at the mouth of the Chesapeake Bay starting from its completion in 1930.
Commissioned for the United States Navy on December 16, 1944, the USS Torsk was the only submarine out of its Tench Class fleet of ten to see service during World War II!
After a jam packed day, return to the lovely 1840s Inn to have a soak in your whirlpool tub or have a drink in the courtyard listening to the sounds of the city. The only thing sparkling more than your champagne is the stars above you! Consider staying in the room of the month to receive luxury at a discount! For the entire month of May, enjoy our beautiful Independence suite for only $195 a night (*regular weekend rate is $300)! Want to treat yourself to an extra special evening? Add a Romance Package to your reservation where you enter your suite to find it lined with flower petals, lit votive candles, a dozen roses, and chocolate covered strawberries.
*Room of the Month rate available for specified room only, based on availability and must be mentioned at time of booking reservation. B&B specials may not be combined- this includes discounted aquarium tickets or military discounts.