Make the most of your Baltimore getaway! 1840s Carrollton Inn has put together a variety of packages to add to your reservation to enhance your stay. We can offer in-room massage services, romantic dinners for two, cakes for special celebrations, or add a little romance to your stay with votive candles, rose petals, and a dozen roses. Whether you love dining, city nightlife, or a relaxing retreat, 1840s has the perfect package for you!
Packages are based on availability, reserve at least 48 hours prior to check-in. All packages are nonrefundable, nontransferable, and paid for upon making your reservation.
Romantic Dinner For Two!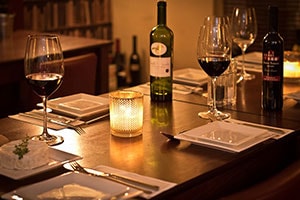 Enjoy a romantic three-course dinner for two at Da Mimmos, La Scala, La Tavola, or *Point South Latin Kitchen all romantic and highly-acclaimed local restaurants, including wine, coffee and dessert (options based on availability). While you are at dinner, our staff at 1840s Carrollton Inn will set a romantic scene for you to enjoy. Return to rose petals delicately spread throughout the room, votive candles, a dozen roses in a vase, and six chocolate covered strawberries to share!
Romance Package & Dinner for Two: $225
CALL TO BOOK – 410-385-1840
(*Point South Latin Kitchen is closed on Sunday Evening)
*Please make sure to mention any dietary restrictions upon booking this package
Cozy Couples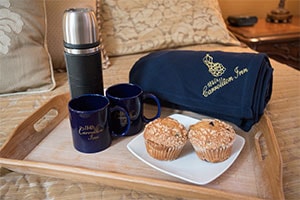 Cuddle up with your significant other with this cozy winter package! Upon arrival, warm up with hot apple cider and muffins in your room. Curl up next to the fireplace with your 1840s Carrollton Inn fleece blanket and 2 signature 1840s Carrollton Inn mugs. What better way to escape the cold?
*Muffins available in: Blueberry, Chocolate Chip
Cozy Couples Package: $50
CALL TO BOOK – 410-385-1840
Special Occasion Cake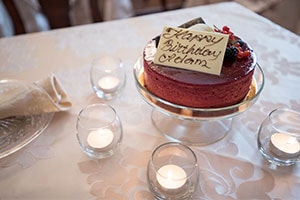 Celebrate your birthday, anniversary, or special occasion with a decadent cake from Patisserie Poupon, a local French bakery. We will set the private table in your room or suite with a beautiful cake in one of three delicious flavors and decorate with votive candles and a personalized, hand-written card! Available sizes: 6" and 8".
Choose from: Royale: chocolate mousse, hazelnut feuilletine, and chocolate cake, Cassis: blackcurrant mousse and white chocolate mousse, genoise, Mixed Fruit: New York style cheesecake topped with fresh fruits.
Cake Package: 6"- $35 or 8"- $45
CALL TO BOOK – 410-385-1840
Romance and Roses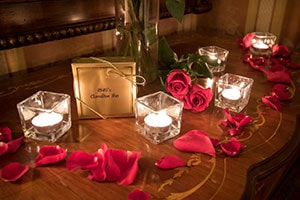 Spoil your significant other with a dozen roses and six chocolate covered strawberries to share waiting in your room upon arrival. To make it even more romantic,fragrant rose petals will be spread throughout the room accented with votive candles. Petals can be arranged and candles lit prior to check-in or let us arrange the package while you are at dinner to return to a sweet surprise!
Cozy Couples Package: $85
Upgrade to two dozen roses for a truly magical effect: $150
CALL TO BOOK – 410-385-1840
Chocolate Covered Strawberries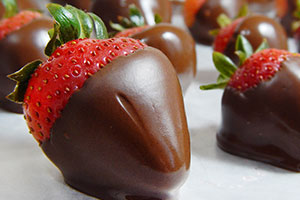 Enjoy 6 or 12 fresh, juicy strawberries dipped in gourmet semisweet chocolate, these sweet treats are the perfect gift for any occasion. Ask for your sweet treat to be ready upon arrival or we can set them up while you are out and about so you can return to a sweet surprise. Indulge in the best!
12 Chocolate Covered Strawberries Package: $35
6 Chocolate Covered Strawberries Package: $18
CALL TO BOOK – 410-385-1840
Charm City Food Tour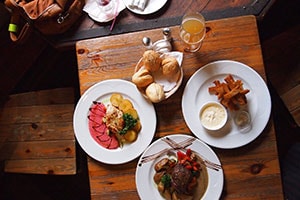 Take a walk with us through Baltimore, an area rich with history and authentic culture and cuisine. Meet the residents, shop owners and restaurateurs, and hear their stories that make this neighborhood so culturally significant. All dishes served are included in the tour. Seating and special service is provided at all restaurants throughout the tour. Make sure to bring your appetite! Choose one of the following:
Little Italy: $52 (Per Person)
Federal Hill: $52 (Per Person)
Fells Point: $54 (Per Person)
CALL TO BOOK – 410-385-1840
Soothing Spa Package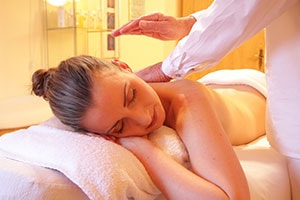 Treat yourself to a relaxing retreat in your own private room or suite! Choose from the following spa services:
1 hour single massage: $150 or 1 hour massage for two: $250
Please allow at least one week prior to check-in to arrange spa services. Couples massages are based on the availability of two masseuses and only offered in suites.
CALL TO BOOK – 410-385-1840