Mark your calendars for the 1840s Winter Open House !!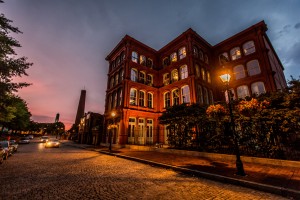 What:
1840s Plaza Winter Open House  
When
: Saturday, February 16, 2013 11:00am-3:00pm   
Where:
29 South Front Street, Baltimore, MD 21202       Come one, come all! The 1840s Plaza will be hosting a Winter Open House Saturday, February 16. Don't miss out on this great opportunity to tour all three levels of the 1840s Plaza! All three levels have very different themes. The first floor, Cabaret, has a Latin inspired and warm theme with reds and golds filling the room. The second floor, City Lites, has everything about Baltimore's history all together in one room. Enjoy the murals of Patterson Park and other destinations of Baltimore, the White Tower Diner, and museum exhibits from the previous Museum of City Life. The fourth floor, Ballroom, provides an elegant theme that is perfect for any event but still has the heart of Baltimore all over the murals on the walls. You can also sample food from Linwoods Catering and Rouge Fine Catering. On top of this, there will be over 30 vendors from all parts of the wedding industry there to help you plan every aspect of your upcoming wedding. This only happens once a year and it's free, so bring your friends, bridal party, and family with you! It's never too early or too late to start planning your event. Let us help you! We will have 1840s Plaza staff available for personalized tours to answer all of your questions as well. You'll get to experience one-on-one time with the designers that put together the extravagant events you see all over the internet and get inspiration for your big day!   RSVP by February 12, 2013 by calling 410-385-1840 or emailing
[email protected]
Need help finding parking? Give us a call. Our staff will be happy to find a nearby parking garage for you.